UPCOMMING & Recent events
2023 NEW ORLEANS CENTENNIAL
Thursday, Friday, and Saturday | MARCH 23 - 25 2023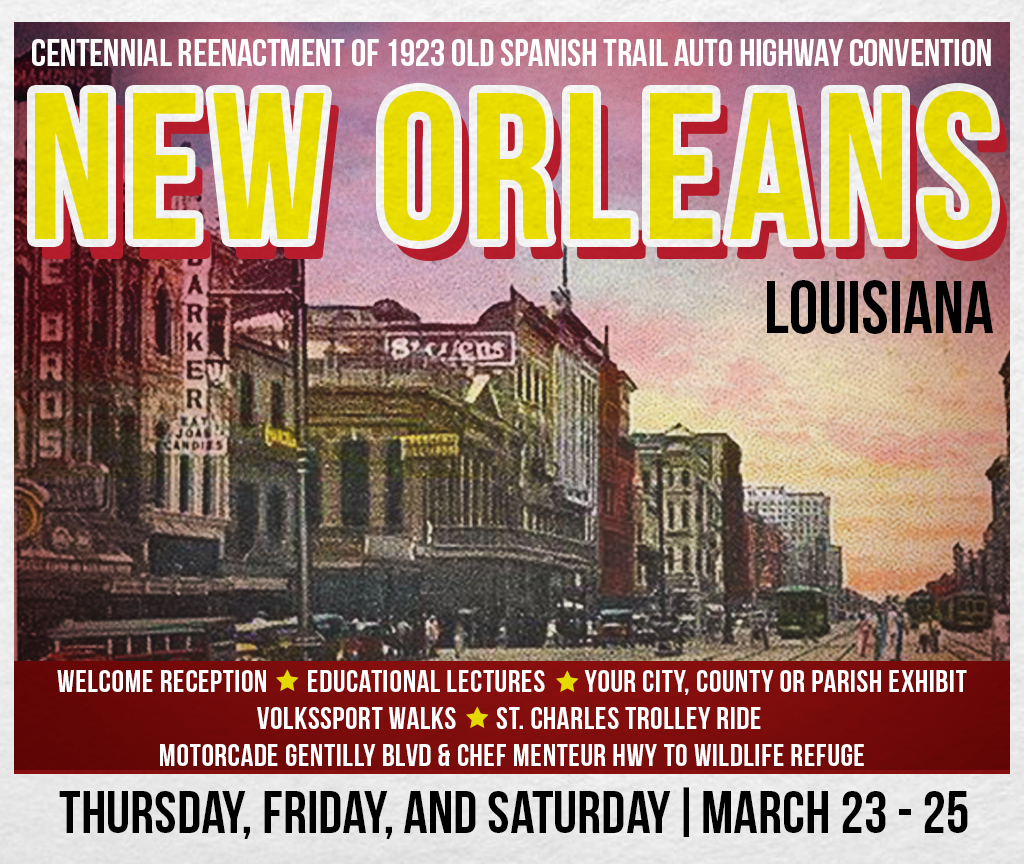 USE LINKS BELOW FOR REGISTRATION AND TO SAVE A COPY OF THE INFORMATION PACKET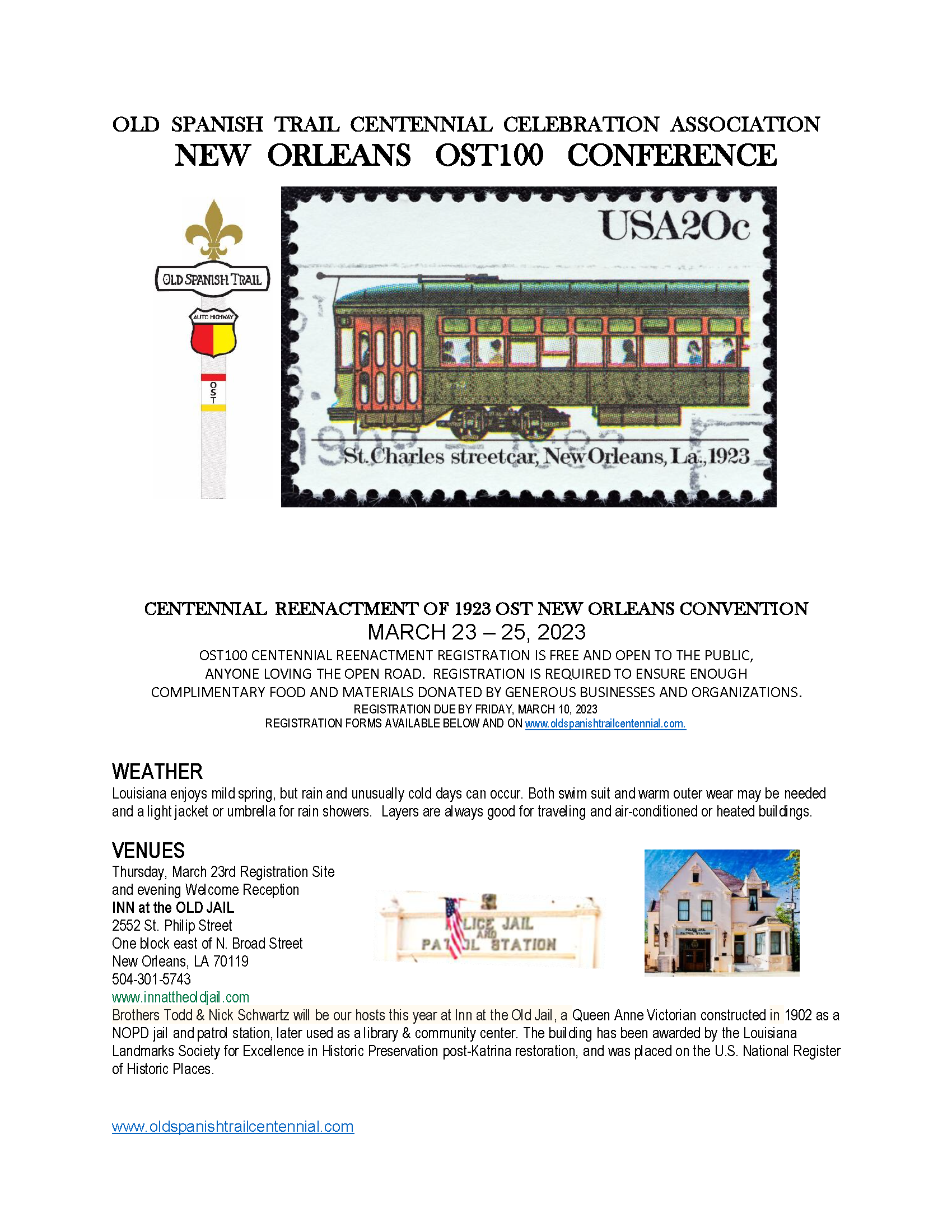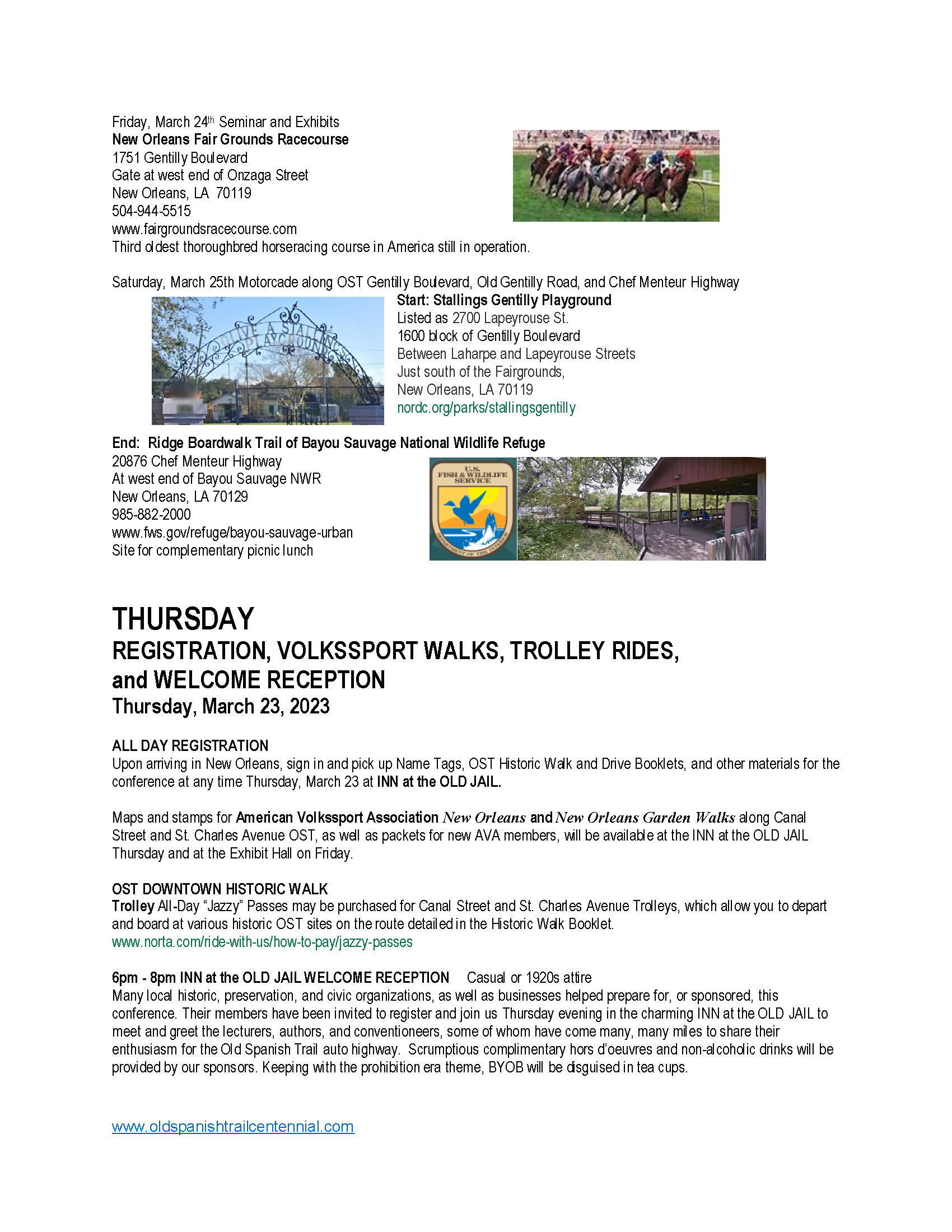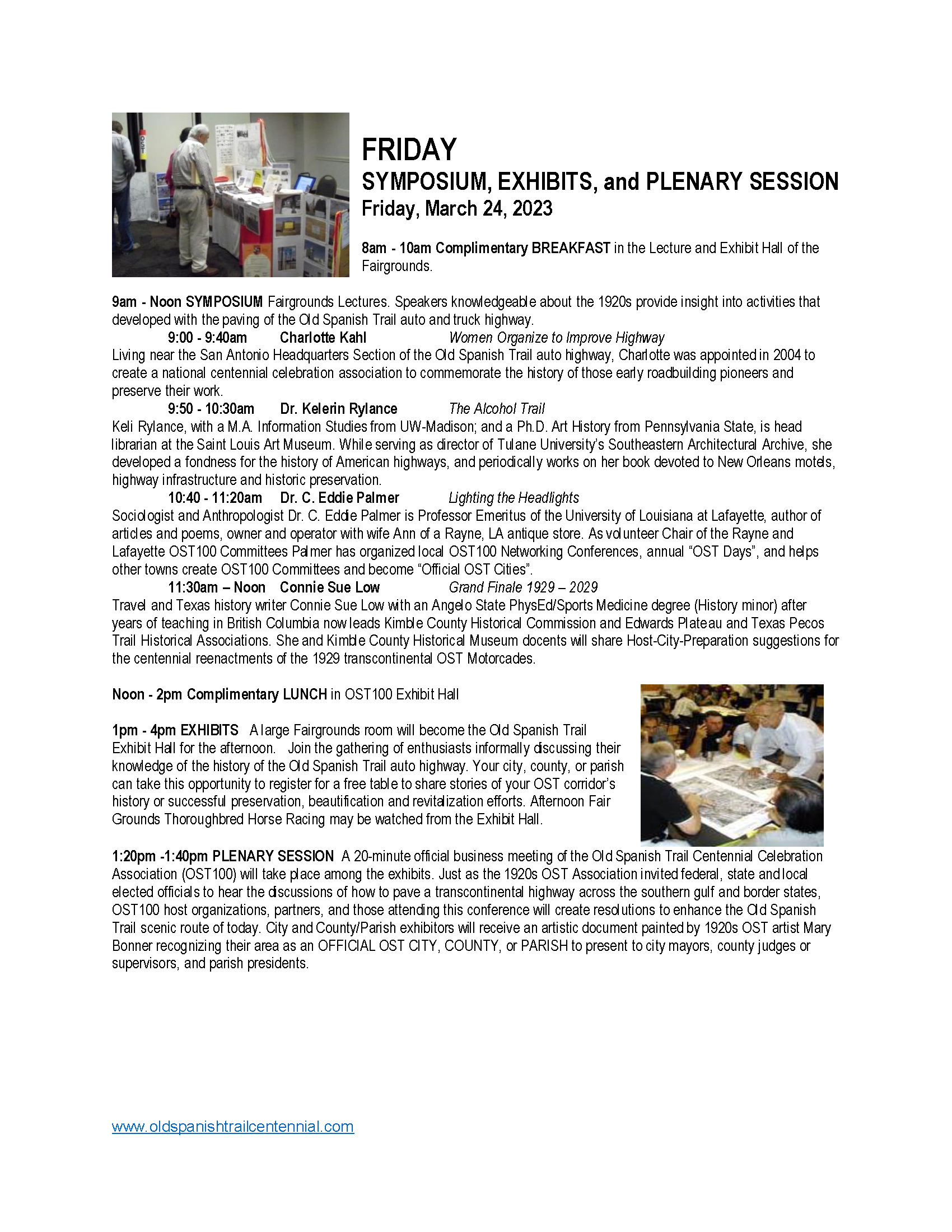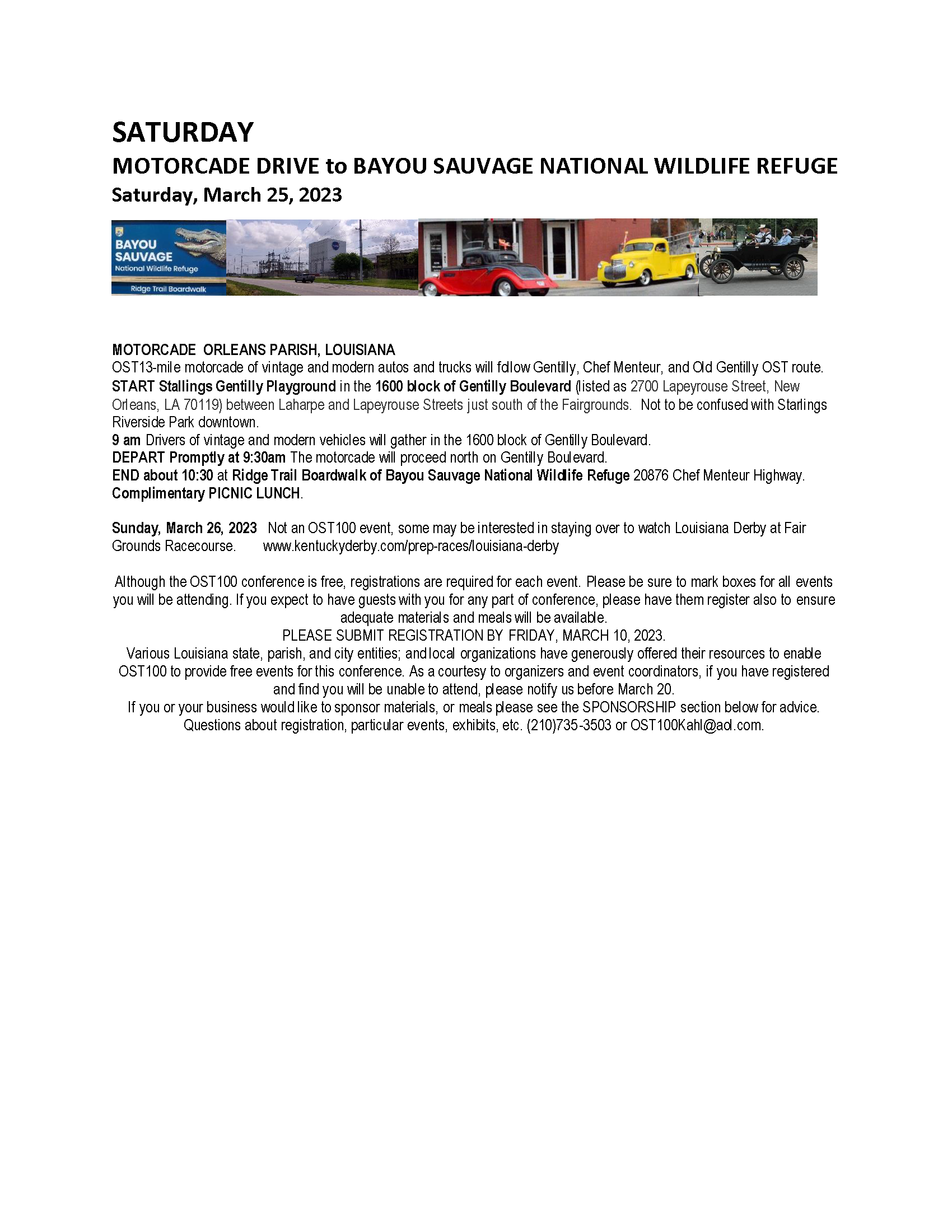 Register Now!
2022 ALPINE EVENT CENTENNIAL +2
Mar. 24 - 26 2022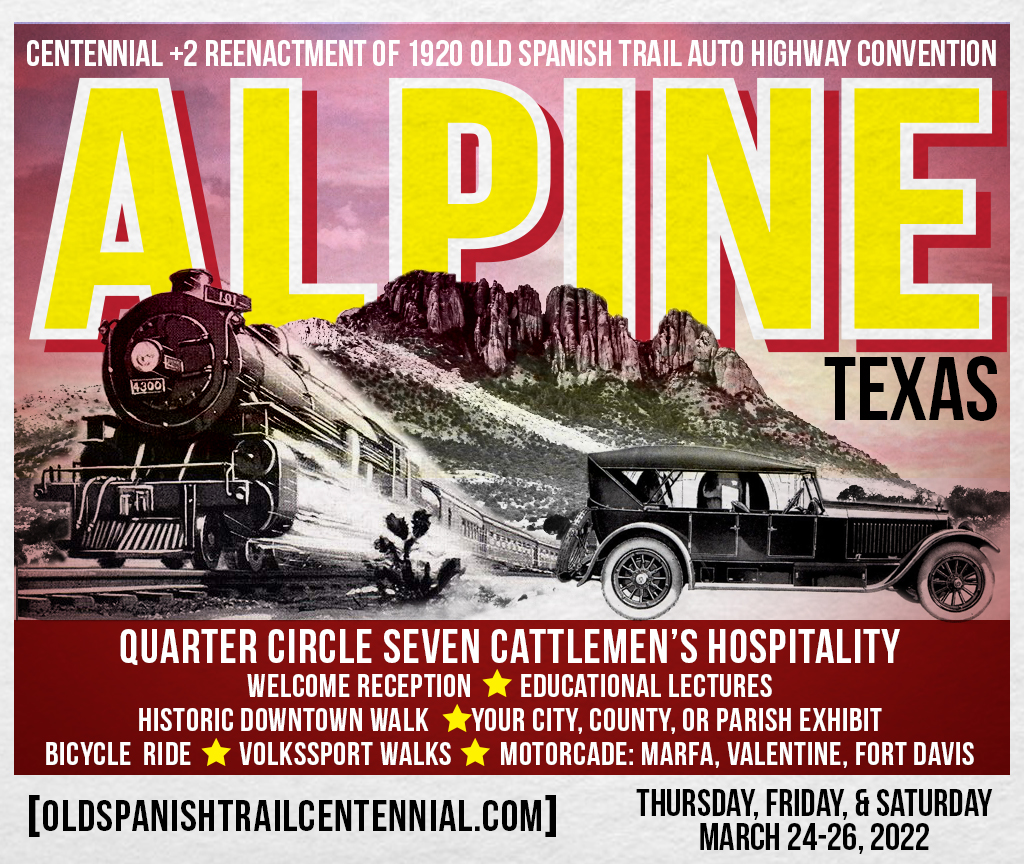 Join us as we revive the Centennial Reenactment of the 1920s OST trip to Alpine and Ft. Davis, Texas to find the best route to pave for the OST from Van Horn to Ft. Stockton. Covid cancelled the 2020 reenactment. We are calling the 2022 event "Centennial +2" and looking forward to meeting old and new OST friends.

Annual Membership Meeting
Oct. 23, 2021 9:00 AM to 12:00 PM
PLEASE FEEL FREE TO SHARE THIS EVENT - THE MORE THE MERRIER!
RSVP to OST100SA@gmail.com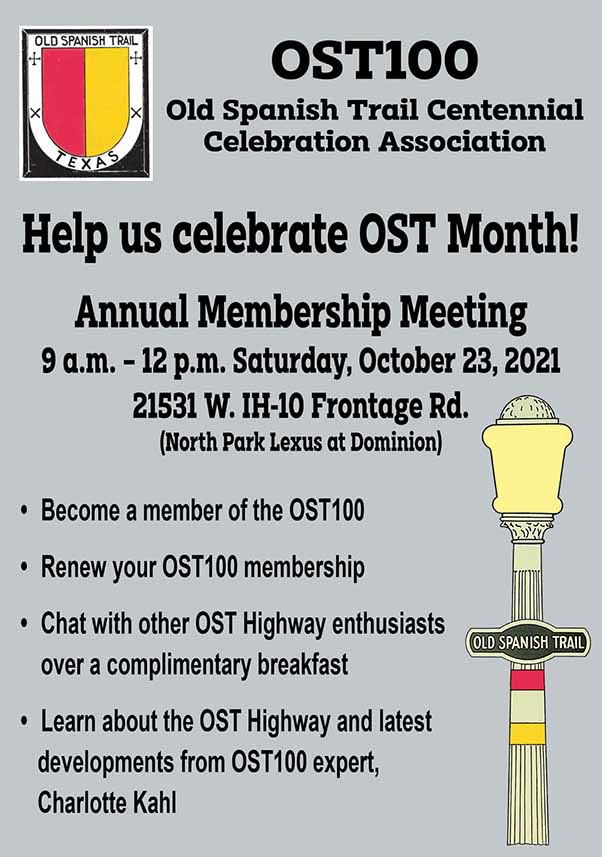 May 2021
EDIE LITTLEFIELD SUNDBY THE MISSION WALKER
COAST TO COAST OLD SPANISH TRAIL AUTO HIGHWAY WALK


Edie Littlefield Sundby became "THE MISSION WALKER" when she walked the 1600-mile El Camino Real de las Californias mission trail through Baja Mexico to Northern California in 2015. Feeling the need to walk and breathe after the 2020 year of pandemic separation and isolation she dreamt of walking the 2,817-mile Old Spanish Trail auto highway paved in the 1920s from "mission to mission" - San Diego, California to St. Augustine, Florida. This dream is coming true as she leaves San Antonio Friday morning May 7th, 2021, beginning the adventure across the Texas portion of the OST heading toward the Atlantic Ocean.
Without a donkey or campervan for essential camping gear, THE MISSION WALKER will use a Swedish Trionic Veloped Trek along the OST.

You can follow her on her on the OST Facebook Group.
Edie Littlefield Sundby, THE MISSION WALKER www.themissionwalker.com
themissionwalker on Facebook
Interview with Edie Littlefield Sundby, "The Mission Walker" - YouTube Hallmark Channel Home & Family Show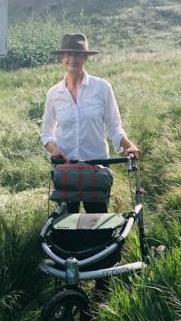 Weds Nov. 18,2020 6:30 PM
St. Mary's University Students Present
Stories of The Old Spanish Trail

Students of Dr. Van Hoy have created stories from the materials donated by Harral Aryes upon the completion of the OST, to share with us November 18th.
Sat Nov. 7, 2020 11:00 AM
St. Mary's University Present
Old Spanish Trail Archives & Exhibit Virtual Launch

Upon completion of the OST in 1929, Harral Ayres donated a decade of office materials to St. Mary's University. The graduate students of Dr. Wieck have those materials now digitized with the full website launched on November 7th. Freaturing work by Glory Turnbbull, Christopher Hoham, Danielle Slaughter, Shine Trabucco, and more!